SysX

Posts: 108
Joined: Sat 4. Mar 2017, 08:59
Location: Holland / Netherlands
Let the countdown begin!
WOooHOoo!! »\o\°\O/°/o/«
Miauz55555

Posts: 1746
Joined: Sun 7. Jun 2015, 22:12
Location: Germany
Ok the server is set up.. feel free to test and try it.. I will send the IP and password to the players via PM right now.
Just to resume so that everything is clear:
MatchWin: The team with the most points is winning. So if you win 3 maps after overtime you have 3 points, when the others wo 2 maps before overtime they have 4 points and with that wo the first round.
RoundTime: 20 min than overtime
GoalScore: 1 point victory (1 for win after overtime 2 for win before)
Teamsize: 5 players
Rule for sups: Sups need to be arround on the discort channel when a sup is needed.. if they are not there we find another, or it will be 4vs4. You can change out Sups mapwise if you like.
Other rules in the first post:
http://ceonss.net/viewtopic.php?f=30&t=1042#p14989
Game rules: No spawnkilling on a locked note/power core.. also not destroying the locked vehicles there unles they are very close to you (like the Ion on Masterbath), or they are shooting at you.
For example shooting with the Mino on the locked Core from a distance when the primes are a minute before to be build is a no go. First and second time you do that will be a warning, third time will be a timeout for 30 s. Ema will move you to spec.. and will move you back to the players when the time is over.. don't join yourselve (that would add 1min). The 4. time will be 1 min out and every time next will add 1 min more.
Just to clarify: When the core is open.. you shoot a nuke straight/ target painter/ be on the core (with a vehicle).. and than the core got loked and the nuke hit the core and destroid every vehicle.. that is ok because it was not your fault.. just try to get away from the core and shoot at the ones who are shooting at you.
Main rule: Play fair and have fun.
Teams are:
CEONSS (blue):
Sedoy
Fors
California
DalyUp
SysX
Sup: Miauz55555
Omni (red .. omnis choice was the red team due to say nothing):
Enyo (May needs a sup.. depents how long it goes)
Anonymous[Lolz]
dimshade
JohnSmallBerries
RacerX
Sup: Mailbox
Maps, played in that order (I just made the order you can blame me).. our Admin (Ema) will fors the next map.
ONS-MasterBath-Ren)o(vation-v2 (omni)
ONS-Urban-NoLevi-C.ut2 (ceonss)
ONS-MinusTankMeUp-Kamek-V9 (omni)
ONS-Suspense2K4-B11-NoADS-C-beta1h.ut2 (ceonss)
ONS-ArcticStronghold-T32.ut2 (both)
OMNI vs CEONSS maps
Ema will be as spectator on the server and
stream it via twitch
. She will be also on discord.
And all the maps will be demorec serverside.
Discord:
https://discord.gg/X4V8THM
Twitch:
https://www.twitch.tv/ceonss
Matchstart is at 19:00 UTC: Be on the server at time, or earlier.. as written in the first post if you need more than 5 mins you shall leave a message on discord.. if you are later without a message a sup will play the whole map for you. You also may not join the server until the map is over.
How to join the server:
Click on the link and allow ut2004 to start and use it.. type the password. (Joining as player)
Open the game, go to join game, serverbrowser, open sonsole (~ or ö), type "open: IP:Port" type the password (Joining as player)
Open the game, go to join game, serverbrowser, favorits, right click, add server to fav, write IP:Port in it, ok, find it, click for either join as player, or join as spectator, type the password.
About discord:
It's free the same way facebook and google are free.. you pay with your data (more like facebook).. so files which you are sending directly or songtext which you send via discord/facebook will be free to use for them.. so I recomment to not send files directly or write your patent over discord/facebook.
I used a new mail for it.
The programm works fine (I use the browser). With google chromes default settings it is working fine.. with firefox default it seems to work fine, too.. but when you have extra apps like noscript and so on it can happen that the audio is not working.
The problem on discord is that you can't selvecheck the audio and mic sensitivity. You either use the help of a friend, or a second application.
Under settings -> audio you can change the sensitivity and so on.
The voice quality is very good.
The voice channel "Omni-Players" and "CEONSS-Players" can just be used from the ons with the respective roll and from admins.. feel free to use that one, or any other channel, or programm.

-FuNkY-MoNk-UK-

Posts: 646
Joined: Wed 27. Nov 2013, 01:08
Was fun to chat on discord and watch this match via the stream(thanks Ema). CEONSS smashed it. For the next match is it possible to have more spec slots? Even though there is a valid reason, I found the one minute delay a bit excessive and coupled with the discord chat being broadcasted along with the one minute delay with 2-3 people talking is not exactly enjoyable viewing if you just want to watch the match.

Good job to those involved.
SysX

Posts: 108
Joined: Sat 4. Mar 2017, 08:59
Location: Holland / Netherlands
Ye was a fun game, hf in the rematch guys ill be watching this time.
WOooHOoo!! »\o\°\O/°/o/«
Miauz55555

Posts: 1746
Joined: Sun 7. Jun 2015, 22:12
Location: Germany
Ok, I hope everybody had fun. From what I saw it was a fair play from all without sandbagging or anything bad.
Both teams were playing great.
ONS-MasterBath-Ren)o(vation-v2 (omni) Winner CEONSS 2 points (Mailbox suped for Anon)
ONS-Urban-NoLevi-C.ut2 (ceonss) Winner CEONSS 2 points (Mailbox suped for Anon)
ONS-MinusTankMeUp-Kamek-V9 (omni) Winner Omni 2 points (Gaffer suped for California; Mailbox suped for Anon)
ONS-Suspense2K4-B11-NoADS-C-beta1h.ut2 (ceonss) Winner CEONSS 2 points (Miauz55555 suped for California; Mailbox suped for Anon)
ONS-ArcticStronghold-T32.ut2 (both) Winner CEONSS 2 points (Miauz55555 suped for California; Mailbox suped for Anon)
Overall points for the first round: Omni: 2 - CEONSS: 8
Let's see how the overall point's will be from first + second round will be.
A big thanks to Mailbox who suped (very good) the whole match for Anonymous[Lolz] (NoShow).
We will play the second round which will be on the Omni-server again with a 5vs5 with same configs and rules so the ping advantage for CEONSS will be than a ping advantange for OMNI. When we have a date we will make another topic like this one. Please suggest a date if you have one in mind (min 3 weeks from now because it needs some time to set all up and get all organised like an omni-admin has to be there to start the demos, force the maps in the right order, observe the game and punish bad appels,.. ). Maybe someone with a good ping to the server can stream that game than, too.
For furhter events we look into something how to make it more fair and eliminate the ping advantage. If you have suggestions speak. One from Mailbox was to mix teams.
If anybody want to watch the demos, you can download them here (just for the mac-users unziped...):
https://www.dropbox.com/sh/nrwomhy7nb8v ... _VTAa?dl=0
On Masterbath, Urban and Minus the Omni team had the advantage in the first minutes, but they could only bring Minus to a victory.
How to watch a demo:
You need the game and all file which was used when recording the demo.
Copie the files (*.demo4) in the folder "Demos" into your "UT2004" folder, if the folder not exist than create it.
Start the game, go to "Community" and start the demo.
And now the endgame screeshots: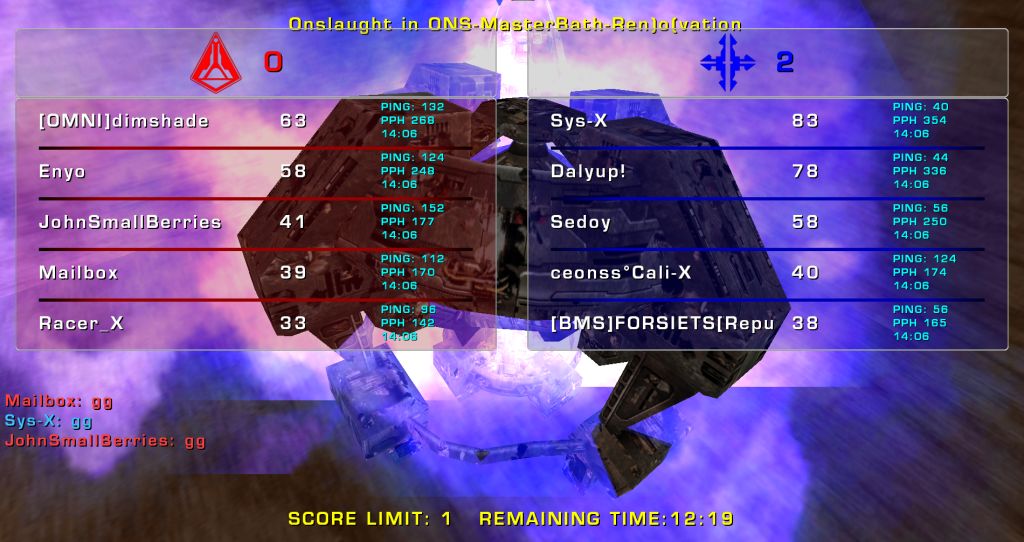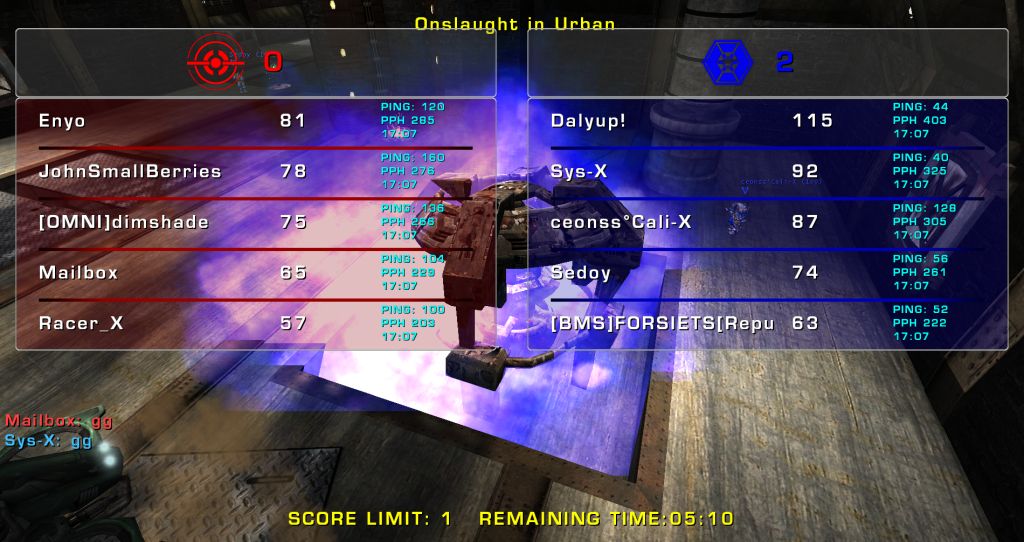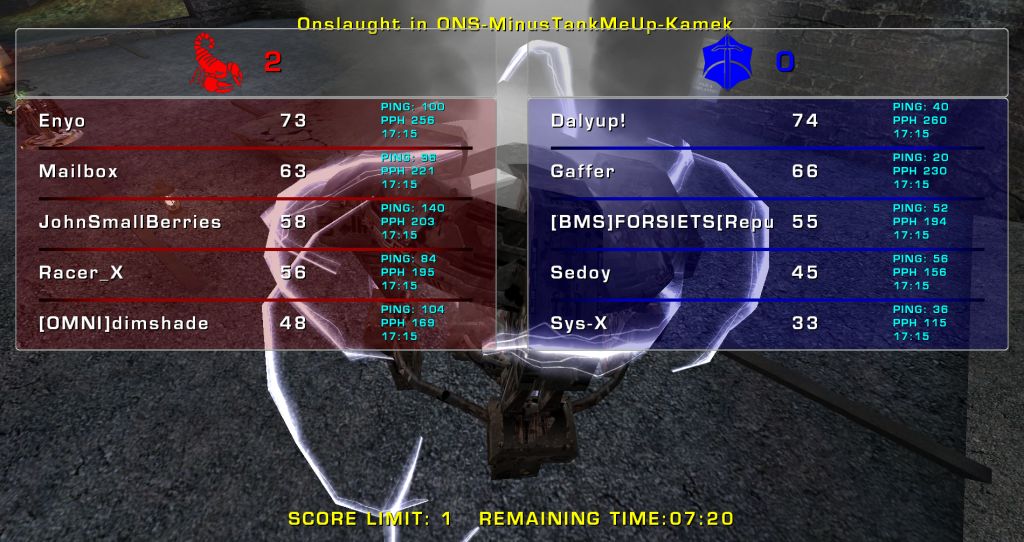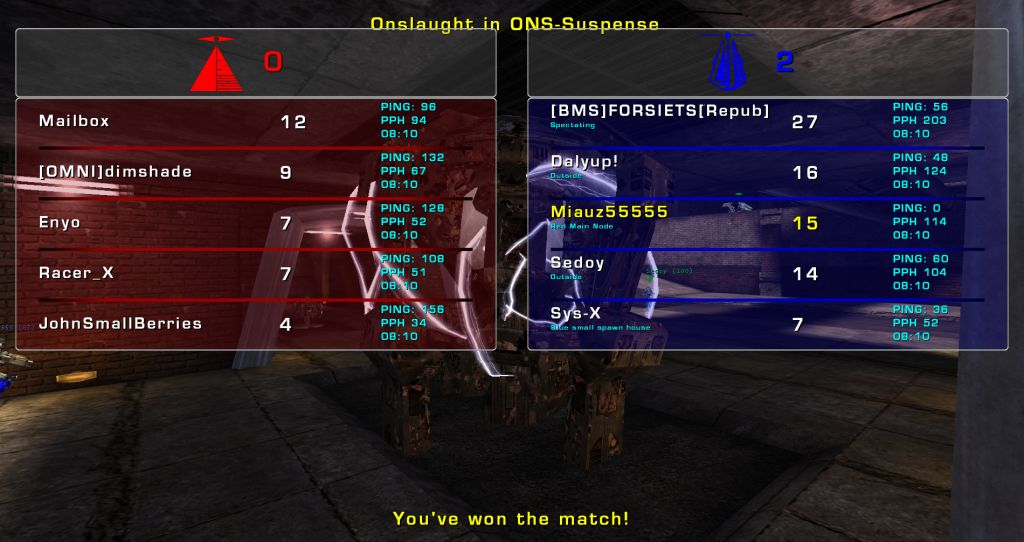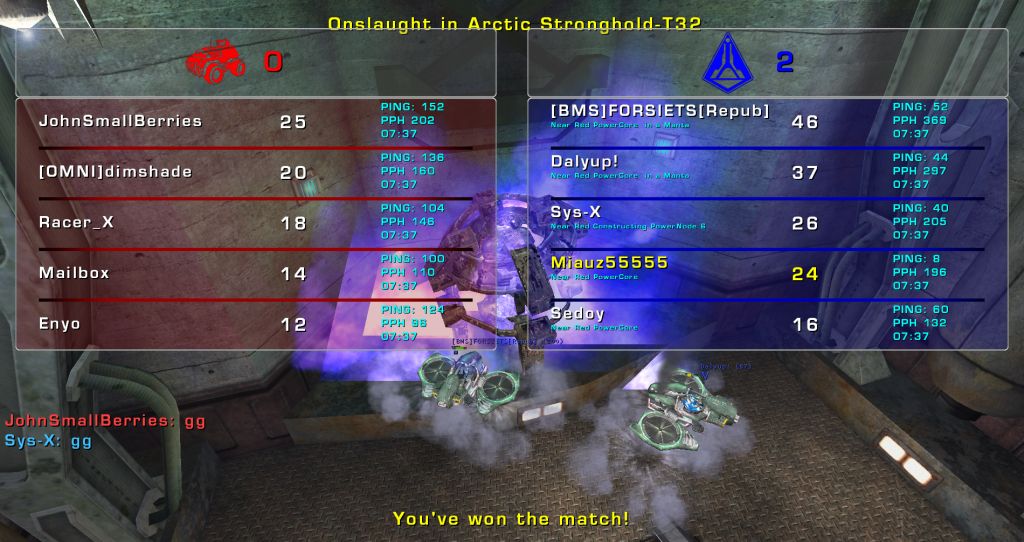 Xac

Posts: 562
Joined: Thu 15. Nov 2012, 14:21
Description: keeping it UNreal since 2004
The Omni guys had high ping values, how much would this skew the results towards CEONSS? Will the rematch be on an Omni server?
Play it safe, do what Droopy says..."Always double tap!"
EmanReleipS

Administrator
Posts: 2825
Joined: Wed 2. Oct 2013, 23:18
Description: Pancake Fairy
Location: Germany
I know I'm late (work has been very busy this week), but I'd like to share my impression of the streaming aspect, especially so we can make plans for Round 2.

Basically, streaming for the first time didn't go super smoothly for a number of reasons:

I discovered when I went to start the stream that I couldn't tab out of the game with the streaming program running in the background or else the game would freeze/become unresponsive, so I once I had started the stream I couldn't tab out anymore.

In order for Dally's chat not to get picked up by the stream, I had turned my own microphone off in the streaming program (OBS), but it still picked up my audio input. I had left that on for the ingame sounds. What I didn't realize was that it would pick up all the discord chat (and they would hear it repeated back at them a minute later). Since my own microphone was muted, the viewers could only hear half of our conversations. I would have liked to turn it back on, but I didn't want to risk crashing the game and therefore the stream.

For the next match, I would suggest either removing the delay (I think this may not be entirely possible, since the usual delay in twitch is about 10 seconds and the option to reduce it is only in beta version right now) or having a moderator-only section on discord where i.e. one admin from CEONSS and one admin from OMNI will give a running commentary on the game that the viewers (who can join another channel on discord) can listen to. The latter option would at least prevent the viewers from hearing themselves, even though I dislike that the moderators would not be able to interact with the viewers.

A big issue was that my stream was lagging. To me it appeared to be fine, but I could tell by the audio quality of the comments on discord and their feedback that the stream was lagging. The lag even appears in the recording I took of the stream. I wonder if it will be any better if Dally isn't playing at the same time. However, our internet is slightly lower than 50.00mbits down/10.00mbits up, which I have heard is on the lower end of the requirements for streaming. It may be better if someone with a faster connection streams it or we give UTV a go for the next match.

So, yeah...does anyone here have a nice 100mbits connection?

For those interested (like Sedoy, who already asked me), I do have a recording of the stream, but it is 1) laggy and 2) 7.18GB large! I don't know what the heck to do about uploading it....