fors

Posts: 142
Joined: Sun 2. Sep 2012, 16:51
Description: skype:mushiak14
Location: Forsiyskaya republic
welcome Warrior! watch the actions of the players and try to repeat. with time you will become stronger!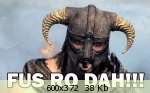 ---
s°rcery

Posts: 91
Joined: Fri 11. Oct 2013, 16:16
Description: I'm a witch, not a bitch.
Location: Borderline of Paris
Welcome Widurr
Sorry I don't speak English (really I speak "FPS-english")
but
since
Translate-Google
, I'm multilingual
(joke) !
---