Happy Birthday!!!
The server tells me I've got it right this time...
I tried to drown my sorrows, but somehow they learned how to swim...
---
---
Happy B-Day!
Hope you have a nice time
---
Happy b-day!
---
Eman!!
If Hagrid turns up, tell him you aren't interested in his antics.
---
happy bday Eman!
have a good one!
---
HAPPY HORSE DAY.
---
Posts: 253
Joined: Tue 23. Dec 2014, 23:21
Description: Ain't no rest for the wicked
Location: Ukraine
EmanRelepis!

I, on behalf of Central European Onslaught Server, wish you good health, countless beers, an ocean of Nutella and many sexy women.
Happy Birthday!
---
Happy Birthday Eman!
---
Posts: 135
Joined: Sun 2. Sep 2012, 16:51
Description: skype:mushiak14
Location: Forsiyskaya republic
Contact:
Happy Birthday EmanRelepis!
I wish you many beautiful victories and glorious battles! let the randomness favors you! and May the Force be with you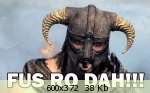 ---
---
Return to "The Players Lounge"
Who is online
Users browsing this forum: No registered users and 3 guests